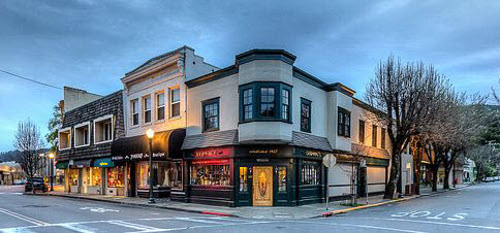 San Anselmo is a vibrant and charming community nestled in the center of beautiful Ross Valley. Residents and town officials endeavor to: maintain a small town ambiance, preserve the historic character of the unique downtown shopping area, and protect open space and parks for the enjoyment of all!Downtown areas include many restaurants and shops with a variety of offerings. Recreational opportunities are numerous in local parks and the surrounding hills. A strong spirit of volunteerism is alive and well in San Anselmo. All these combine to make San Anselmo a special place to live, work or visit.
San Anselmo lies in the heart of Ross Valley, amidst verdant tree-covered hills. Occupying a total land area of 520 square miles, it is one of Marin County's most charming neighborhoods, a creekside town with a reputation for having some of the best antique stores in this part of San Francisco.
Here are more reasons San Anselmo has become desirable place to move to in the North Bay:
A convenient location
The excitement and attractions of San Francisco are just 20 miles away. Yet San Anselmo itself is replete with attractions and fun stuff to do – from events in the park that celebrate fine wine and the arts to classic movie screenings and open-air concerts.
Numerous parks and opens spaces
San Anselmo is proud of its many parks. They include the 13.5-acre hilltop Faudé Park, which overlooks the Ross Valley; the quarter-acre Kite Hill, which is Anselmo's highest point; the 60-acre Sorich Ranch Park, with its hiking trails, gorgeous views, and deeply tranquil atmosphere. Flanking the summit of Bald Hill, the 40-acre Bald Hill Ridge reserve features pockets of wooded areas. The 22 acres that make up the lower part of Hawthorne Canyon are a favorite spot for hiking, picnics, and communing with nature.
Other more developed parks include Memorial Park, with its playground, tennis courts, sports fields, and an interactive gardening area. The Robson-Harrington Park is site of a turn-of-the-century mansion as well as the town's community gardens. Recently, the city opened Imagination Park, a pocket park donated by San Anselmo resident George Lucas.
A celebration of the finer things in life
Among the many events San Anselmo hosts throughout the year, the San Anselmo Art and Wine Festival is one of the biggest. The weekend fest features the work of more than 200 artists along with live music and gourmet food. The San Anselmo Country Fair Day and Parade and the Antiques Fair, on the other hand, underscores the city's reputation as the best place to hunt down collectibles and rare finds.
A real downtown
Downtown San Anselmo is an absolute treat. Here you'll find the well-preserved Spanish Revival Town Hall, along with several other historic buildings. An array of boutiques, antique shops, restaurants, and cafés lie behind charming facades that evoke the town's early days.
Exceptional schools
The caliber of schools in San Anselmo point to the residents' quality of life. Two school districts serve the city, along with a choice of highly rated private schools.
Elementary and middle school students attend schools in the Ross Valley School District. High school students, meanwhile, go to Sir Francis Drake High School, which is under the Tamalpais Union High School District.
Private schools include St. Anselm School, San Domenico School, San Anselmo Montessori School, and Oak Hill School.
The San Francisco Theological Seminary, a beautiful hilltop campus dating back to 1892, is also found in San Anselmo.
Homes for Sale in San Anselmo, CA
The homes in San Anselmo are diverse, reflecting the town history and its irregular topography. They're designed to suit just about any preference or lifestyle.
The leafy neighborhoods of Brookside and Morningside feature many well-preserved and updated pre-WWII bungalows and Spanish Revivals.
Hawthorne Hills is another sought-after neighborhood with California bungalows and Spanish homes.
The beautiful tree-lined streets of the Seminary neighborhood offer larger homes, which has the added advantage of being close to downtown.
In Yolanda Park, homes are equally spacious at more than 2,000 square feet.
You can opt for Sleepy Hollow, a neighborhood surrounded by rolling hills. Founded in the 1940s with one acre residential lots, it has expansive estates and equestrian properties.
Other San Anselmo neighborhoods are:
San Francisco Boulevard/Millennium Park
Barber/Lincoln Park
Sequoia/Greenfield
Calumet Park
San Anselmo Real Estate and San Anselmo Homes for Sale – Marin County Real Estate and Homes for Sale
Interested? Call Abby today at 415.497.9542 or email at [email protected].
Sorry we are experiencing system issues. Please try again.